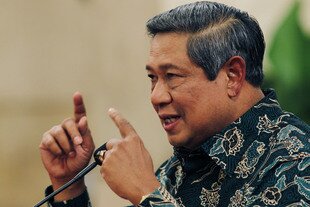 Most Indonesians reject extremism and cherish their country's democratic values, President Susilo Bambang Yudhoyono said this week.
In an extended interview with The Australian, Yudhoyono expressed his conviction that tolerance would prevail over the ideology of violent jihad espoused by terrorist groups such as Jemaah Islamiyah.
"I have every confidence that democracy, Islam and modernity are the critical elements of our social fabric, and have contributed to the country's progress," he told the daily.
Asked if Indonesia continues to face a threat from extremists, he indicated they lack wide support.
"The vast majority of Indonesian Muslims embrace moderation and tolerance," he said. "Yes, we do continue to face the challenge of extremism, as in many other countries, and some terrorist cells still exist. But they will not shake our commitment to democracy and they will not change the character of mainstream Indonesia as peace loving and freedom-loving people."
When Yudhoyono took office in 2004, violent extremism had emerged as a serious threat. Homegrown terror cells forged links with like-minded jihadists across Southeast Asia and with Osama bin Laden's al-Qaeda network, exchanging knowhow and personnel.
Terrorists were able to carry out a succession of lethal attacks in Indonesia, including the co-ordinated bombings of churches on Christmas Eve 2000 and the massive 2002 suicide-bombing in Bali, which killed 202 people.
Since then, however, the jihadist movement has lost much of its potency, foiled by a largely successful counterterrorism effort on the part of Indonesian security forces, as well as by the declining fortunes of al-Qaeda.
The Jemaah Islamiyah terror network has seen most of its top leadership killed or arrested, and the country's most influential extremist ideologue – the radical cleric Abu Bakar Bashir – is behind bars, serving out a 15-year-sentence for helping to set up a jihadist training camp in Aceh.
According to police, members of practically every known Islamist militant group in the country had gathered at the camp, which flew al-Qaeda's flag as an inspiration. They allegedly received training and conspired to carry out terrorist acts, including the assassinations of Yudhoyono and other moderates.
Meanwhile, Indonesians have become increasingly vocal in calling for an end to extremism and intolerance. In February, hundreds turned out to rally against the Islamic Defenders Front, a hardline Islamist group accused of carrying out acts of intimidation.
Earlier this year, addressing the Parliamentary Union of Organisation of Islamic Co-operation member states at their annual conference, Yudhoyono disputed the extremists' claim to speak for Islam.
"We must project the teachings of Islam in its truest form: that Islam is a religion of peace, that Islam is rahmatan lil alamin [a blessing for the whole world]," he said.
"But this message is effective only if we, Muslims, exercise the Islamic values—the values that made Islam the world's most advanced civilisation in the 13th century. This means working in solidarity with all humankind, since we are all children of the same Divine Providence."