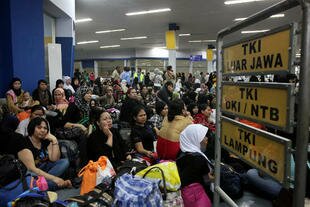 Indonesia's economic growth slowed in 2013, a trend some believe is tied to a smaller number of migrant workers abroad sending home less money.
"Migrant workers contributed roughly 1% to our GDP. The declining number of Indonesian migrant workers will likely have some impact on the Indonesian economy," said Magdalena Hariyati, director of the Karena Kasih Foundation in Madiun. The organisation empowers Indonesian women by training them in various skills.
Government figures show the number of workers Indonesia sent abroad largely decreased over the past four years: 512,168 workers in 2013, 494,609 in 2012, 586,802 in 2011. Meanwhile, growth slowed to 5.7% in last year from 6.2% in 2012.
Magdalena suggested at least two factors contributed to the decline in migrant workers, drawing parallels to Saudi Arabia's expuslion of nearly 8,000 Indonesian workers last year under its new Saudi Nitiqat labour law.
"First, the number of employment opportunities in the destination countries is declining," she said. "Second, our migrant workers are still limited in terms of job skills and human resources development.
"We have three important programmes in developing the quality of job skills for women. We are working on entrepreneur skills, exposing women to various technologies and communication skills," said Magadalena.
University of Widya Mandala Madiun graduate student Vina Hendrarti agreed migrant workers must develop new skills to land jobs abroad.
"I've heard that Indonesian workers overseas receive lower payments than those from other countries. But if we continue to be prepared with various skills, we can see some changes," she said. "We will be able to compete internationally and continue to contribute to economic growth."
Meanwhile inside Indonesia, foreign workers declined to 68,957 last year from 72,427 in 2012 due to various international policies and the global economy, Antara quoted Manpower and Transmigration Minister Muhaimin Iskandar as saying.
"With changing numbers of workers in and outside the country, there will be some changes in our economic growth, but we are still optimistic that Indonesian economic growth will be in the range of 5.8 to 6.2%," Bank Indonesia Governor Agus Martowardojo told Khabar.