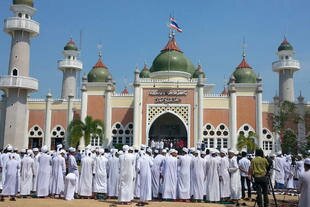 More than 10,000 devout Deep South Muslims gathered June 18th for the largest lamaat hayat prayer service ever held in the region.
The Southern Border Provinces Islamic Committee and five other major Muslim groups organised the ceremony at Pattani Grand Mosque. Approximately 6,500 Muslims from Pattani, 2,500 from Yala and 1,000 from Narathiwat attended.
Ulama Council of Fatoni Darussalam Foundation President Abdulkarim Nakonawa led special lamaat hayat prayers for a safe and violence-free holy month. He also led the morning du'a prayers.
Pattani Provincial Islamic Committee chairman Waeduramae Mamingji read a joint statement encouraging Muslims to observe fasting rituals faithfully, refrain from all vices and to work together to achieve personal peace and social harmony.
Adsman Sideh, owner of Ponoh Mahaddarul Rahmah, a private Islamic secondary school in Pattani's Saiburi district, and some 100 staff and students piled into pickup trucks for the 70-km journey to the event.
"We Muslims in the five southernmost provinces, like Muslims around the world, need to prepare ourselves properly for Ramadan so that we can observe the rituals with eagerness, determination and hearts full of love, as is clearly specified in the hadiths," Adsman told Khabar Southeast Asia.
"But some of our fellow Muslims may be unprepared. So we are glad to take part in this ceremony as a way of reminding them to also prepare themselves for a perfect Ramadan, one of total peace."
Just outside the central mosque complex, coffee kiosk operator Anipah O-ma told Khabar, "It is a good reminder to prepare ourselves for Ramadan and pray for good fortune."
In February, ten bomb attacks over a three-day period rocked Pattani. One detonated down the street from her kiosk.
"I am really disheartened by all these incidents of violence and unrest. I want Pattani to be as peaceful as all the other provinces," she said. "I once thought of leaving the area, but I decided to stay to help support my family and all my relatives."
Ban Satae Mosque Imam Dalneeya Samae said 500 people made this year's 80-km journey from his native Bajoh district.
"We came here to pray for peace and good fortune for ourselves, our families and the entire nation. We are very happy with the way the ceremony turned out," he told Khabar. "It was a great opportunity to promote unity, social harmony and restoration of peace."