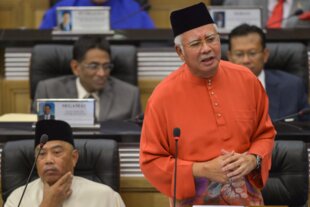 The Malaysian government is ratcheting up efforts to counter a domestic threat posed by the Islamic State of Iraq and Syria ( ISIS ), including proposing a new anti-terrorism law and moving to block jihadist websites, online videos and social media accounts.
On Wednesday (November 26th), Prime Minister Najib Razak introduced a white paper for debate in the Dewak Rakyat (House of Representatives) that details the threat from jihadist groups , and calls for a tougher law to go after extremists, Malaysian media reported.
Najib told lawmakers that the country's existing anti-terror laws needed to be toughened amid growing worries that jihadists coming home from combat tours in Syria and Iraq could import terrorism and foment violence on Malaysian soil, AFP reported.
"Looking at the potential threat from this group, we fear the return of Malaysians from the conflict zone in Syria and Iraq will be detrimental to national security," AFP quoted Najib as saying.
Malaysia is facing an ever-changing threat from Malaysian militants joining forces with their counterparts in the southern Philippines and southern Thailand, Home Minister Ahmad Zahid Hamidi told The Star newspaper before the prime minister released the white paper.
"The militants are trying to not only get new recruits but also trying to strengthen their organisations," Ahmad told the paper. "They are also trying to influence other organisations, including political parties, which we are monitoring, though we don't have hard evidence yet."
Censoring jihadist content
In addition to its proposal for a new law, the government is working to set up a firewall that would stop militants from recruiting Malaysians for the jihadist cause and disseminating their propaganda via the internet, social media and videos posted on YouTube, the home minister announced Monday.
"We are working with the Malaysian Communications and Multimedia Commission (MCMC) on this matter, and I urge the commission to implement the system soon," The Malay Mail Online quoted Ahmad as saying during an event in Putrajaya marking the 60th anniversary of the country's Censorship Board.
"Content creators have to make sure their content does not lead members of society out of social and religious norms," he added.
Also on November 24th, Ahmad discussed the threat while speaking at the Umno party's 2014 international forum 'Hyperconnectivity and the Social Media: Empowering citizens to build or divide a nation'.
The country must confront a threat from people and organisations that "spew lies, slander and hate speeches", Bernama quoted him as telling the forum.
The government would "not compromise anything when it came to national security and stability", he said.
"We had learnt from the 1969 racial riot[s], and we had also learnt from several incidents involving communal and religious extremists," Ahmad said in his address. "All these had summoned us to enact stringent laws to control the house from collapsing."
Positive reception
Sahol Hamid Abu Bakar, the vice chancellor of University Teknologi MARA (UiTM), praised the government's decision to set up an online firewall.
"This is not to turn down people's freedom of speech or creativity on the internet, but to prevent any possible recruitment for radicalism like ISIS," Sahol told Khabar Southeast Asia. "A firewall will censor various websites, including YouTube, that do not adhere to the government rules set up by the Malaysian Censorship Board."
Meanwhile, authorities are vowing to prevent Malaysians fighting in the Middle East for ISIS or other extremist groups from bringing their jihadist brand of violence back home and recruiting more young Malaysians for jihad.
"Our government is firm that our country will not welcome home those militants who have been fighting in Syria or Iraq," Jamil Khir Baharom, a minister in the Prime Minister's Department, told Khabar.
Those citizens returning from jihad in the Middle East will face charges, he warned.
"Our authorities so far have identified 39 Malaysians in Syria, but the number could be more. We are aware that their return is not to bring peace but to transfer their ideology and their new militant skills to others," Jamil said.