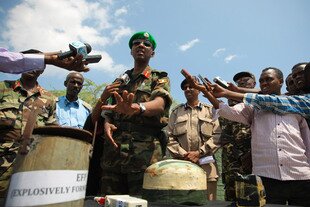 The haemorrhaging that al-Qaeda has suffered for years, especially in its senior ranks, appears unlikely to stop in the near future.
While the organisation's losses are concentrated in the tribal areas along the Pakistani-Afghan border area where al-Qaeda senior leaders are believed to be hiding, the organisation appears to be bleeding on an unprecedented scale that has expanded to include its international affiliates.
Various reports indicate that al-Qaeda lost five of its leaders in recent days, one in Pakistan, three in the Philippines and one in Somalia. It might be too early to assess the impact of these losses on the organisation and its branches, but it is clear the strikes have left al-Qaeda reeling and unable to rebuild its depleted ranks.
Al-Qaeda's latest casualty occurred in Pakistan where Badr Mansour, the leader of al-Qaeda in Pakistan, was killed Thursday (February 9th) near Miranushah, the largest city in North Waziristan, according to news reports.
Mansour was believed to have been the leader of al-Qaeda in Pakistan following the reported death of his predecessor, Elias Kashmiri, who was killed in Waziristan last year. Although al-Qaeda has not officially acknowledged Kashmiri's death, news about him has completely dried up, leading credence to reports that he was killed.
Badr Mansour's importance stems from his presumed supervision of multiple suicide attacks that occurred in Pakistan in recent years and that killed hundreds, possibly thousands of people. The Tehreek-e-Taliban, the Taliban's branch in Pakistan, claimed responsibility for many of the attacks. Mansour was previously linked with Harakat-ul-Mujahideen, then Tahrik-i-Taliban Pakistan, and finally with al-Qaeda, according to the BBC.
Another blow to al-Qaeda in the Philippines
Before Mansour's death, al-Qaeda was dealt another blow in the Philippines when the Philippine army launched a strike against a terrorist camp on the island of Jolo, killing several leaders who are allegedly linked to al-Qaeda earlier this month.
Of the 15 people who were reportedly killed in the raid, two of them are said to be foreigners belonging to the al-Qaeda-affiliated Jemaah Islamiyah, which is active in Southeast Asia. The two are Zulkifli bin Hir, a Malaysian, who is also known as "Marwan" and Abdullah Ali, a Singaporean, who is also known as "Muawiya".
The leader of another al-Qaeda-linked organisation was also reportedly killed in the raid. Umbra Jumdail, also known as "Abu Bala" who was one of the founders of the Abu Sayyaf group, was killed. The group is active in the southern Philippines.
Indonesian and Malaysian authorities dismantled several of the Jemaah Islamiyah networks following the 2002 Bali bombings, which killed more than 200 people, most of whom were Australian tourists. Indonesian courts convicted several Jemaah Islamiyah leaders on terrorism charges, and security forces throughout the region pursued the group's cells, which forced many active members to flee. Some members of the cell fled to the southern Philippines as the killing of the group's Malaysian and Singaporean leaders in the Jolo raid indicated.
Al-Shabaab movement reeling
Al-Qaeda suffered a third blow recently in Somalia following the death of Bilal al-Berjawi, a dual citizen of Lebanon and Britain who was stripped of his British citizenship.
Al-Berjawi, also known as "Abu Hafsa", was killed in South Mogadishu. He moved to Somalia in 2006 and joined the al-Qaeda-linked "Harakat al-Shabaab al-Mujahideen" movement. The movement acknowledged his death in an official announcement.
Al-Berjawi was reported to have been al-Qaeda's second-in-command in Somalia after slain leader Fazul Abdullah Mohammed, who was accused of being involved in the 1998 bombings of US embassies in Kenya and Tanzania. Somali police killed Fazul Abdullah in June 2011. Two other prominent leaders suspected of having links with al-Qaeda, Saleh Ali Saleh al-Nabhan and Adam Hashi Ayro, were killed in 2009 and 2008, respectively.
Al-Berjawi's death comes at a time when the al-Shabaab movement is reeling from a series of blows that forced it to withdraw from the Somali capital, Mogadishu, and retreat in the face of the Kenyan army in the south and the Ethiopian army in the south-west of the country.
Al-Qaeda leader Ayman al-Zawahri formally announced that al-Shabaab was joining his group in a 14-minute message posted on extremist sites on Thursday. The movement had declared its allegiance to al-Zawahiri in June 2011, following the killing of Osama bin Laden in Pakistan in May 2011.
Al-Shabaab had announced its allegiance al-Qaeda in the past, which prompted senior leaders in al-Qaeda to support the war al-Shabaab was waging against the Somali government. Al-Qaeda pledged its support despite the fact that the Somali government's leadership is Islamist. Sheikh Sharif Sheikh Ahmed, the former head of the Islamic Courts organisation, is president of the Transitional Federal Government. The Islamic Courts organisation spawned the al-Shabaab movement.
Will all of these losses undermine al-Qaeda's cohesion under al-Zawahiri's leadership?
Perhaps it is still too early to determine the precise impact of the death of so many leaders of al-Qaeda and its subsidiaries, particularly in terms of how that affects their ability to conduct operations. Nevertheless, these successive losses undoubtedly put al-Qaeda at an increasing risk of becoming a weak organisation that is incapable of imposing its will on world events.