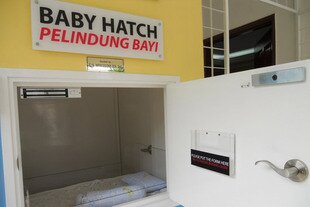 By day, Zuhri Yahya is an executive at a bus advertising company. In his spare time, he works feverishly to save unwanted babies.
It all began in September 2010, when he was going about daily business in his car and encountered a big crowd at the roadside.
"When I stopped at the traffic light, I had the chance to see what was going on in the centre of the commotion," Zuhri, 31, told Khabar Southeast Asia." It was then when I saw a dead baby, covered in flies, being taken out of a garbage can. I just broke down and cried."
Most people in such situations wipe away their tears and move on, but Zuhri took action, launching the Abandoned Babies Awareness Project (ABBA).
He was already volunteering at OrphanCARE, a non-profit, non-governmental organisation established in 2008 by the late Adnan Mohammad Tahir to expedite and de-stigmatise the adoption process.
In 2010, OrphanCARE opened its Baby Hatch, where unwanted babies can safely and anonymously be passed into state care.
The one-of-a-kind facility is located in OrphanCARE's operations centre in a quiet residential neighbourhood in Petaling Jaya, about 30km east of central Kuala Lumpur. These days, Zuhri spends much of his time telling people about it and explaining how it works.
"A young, desperate mother comes to OrphanCARE with her newborn baby. She approaches the hatch, opens it and places her baby inside. A sensor immediately picks up the baby's presence and triggers a buzzer and strobe light in the caretaker's room," he says.
The caretaker checks a closed circuit TV to confirm the presence of a baby and to check whether the woman has left, to ensure her anonymity. Then, the caretaker retrieves the baby.
"We then usually keep the babies for about 7-9 days until they are given to the State Welfare Organisation to start their adoption process," Zuhri says.
Nine babies have been placed in the baby hatch since it was launched in 2010. Zuhri and other volunteers hope to save many more.
With mothers fearful of stigma, infants are left to die
According to data from the Royal Malaysian Police, 396 babies were abandoned in Malaysia between 2005 and 2011. In January 2012, 19 babies were abandoned; 13 of them survived, police say.
Shame or fear of punishment over a baby born out of wedlock is one cause of baby dumping, according to former minister of women, family and community development Shahrizat Abdul Jalil. In addition, babies born with disabilities are sometimes abandoned.
"The lack of religious education; no knowledge of available support services such as counseling services, being abandoned by the father of the baby, and mothers who are illegal immigrants with no proper documentation are some of the reasons why most people who resort to abandoning their babies do not seek help from the authorities or welfare departments," she said.
"These babies are sometime left at waste dumps, drains, toilets and other unimaginable places," says Zuhri.
Meanwhile, compounding the tragedy, around 1,000 Malaysian couples are currently waiting for adoption requests to be approved, he says.
"ABBA Heroes" educate youth
To bridge the gap, Zuhri organises what he calls "ABBA heroes" to speak to young people about baby abandonment and the existence of the baby hatch, and to provide a place for young people to talk about subjects like sex education and to seek help.

For funding and volunteers, Zuhri taps the Young Muslim Project, a group he belongs to where young people discuss life and faith and launch service projects and social events.
Last year, at a youth carnival, the ABBA team left baby dolls at several sites of the carnival. On the baby doll, it was written for the finder to return the baby doll to ABBA's tent and its mock baby hatch.
"Once we got people to the booth, we explained about the existence and the mechanism of the baby hatch and informed them on the rampant case of babies being abandoned. Some of those who came also had a chance to consult with our volunteers and ask questions."
Besides participating in youth events, ABBA also gives talks in schools. "Sometimes we talk about advocating abstinence and other times we talk about sex and the consequences. Yes, most of these kids don't know that having unprotected sex can lead to unwanted pregnancy!"
Zuhri would like to see baby hatches set up in other locations in Malaysia and possibly in other countries.
"Baby abandonment is not an issue that is confined to Malaysia. Last month, two Sudanese students approached me about setting up a baby hatch centre in their country," he said.
"I do hope that ABBA can grow and potentially save the lives of many innocent babies."