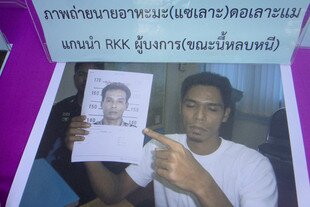 Four men allegedly involved in a failed plot to explode a car bomb in Thailand's southern province of Narathiwat during March have acknowledged that they belong to the militant separatist group Runda Kumpalan Kecil (RKK), police say.
Their capture could help shed new light on the murky network of insurgents who have been carrying out near-daily attacks in the region.
One of the suspects, 27-year-old Ampan Wangoh, was presented to reporters at police headquarters early last week.
"I confess to my involvement in this case," he said in answer to a question from Khabar Southeast Asia.
Police said he could understand the Thai language, but couldn't speak it very well. Like many people in the Deep South his native tongue is a local Malay dialect known as Yawi.
"I'm a member of an RKK unit under the command of 'Arharma' [Saelaow Dorlaowmae]. I joined the group about one year ago," he said slowly in Thai, with apparent trouble in forming the words.
Also arrested were three other men -- Abdullah Samaair, 38; Narsorree Aibbrahang, 31; and Taofix Ela, 24.
Alleged local RKK chief named, but still on the run
Narathiwat Provincial Police Deputy Commander Krissada Kheawjandee told reporters that a review of closed circuit television camera images was the key to the arrests.
Krissada said investigators under the command of Narathiwat Provincial Police Commander Chode Chawanwiwat reviewed the surveillance footage and noticed a man in a white-and-black striped shirt riding a blue Honda Wave motorbike.
The footage revealed that he was scouting the area where the car bomb was to be detonated and reporting back to fellow accomplices about the movements of security officers in the area.
Police traced the license plate of the bike back to its owner, Areena Wangoh, who disclosed that her brother – Ampan – had borrowed it at the time of the incident.
When questioned, the men said they had been given their instructions by Dorlaowmae, 59, alleged to be an RKK leader in the subdistrict of Arawan. He remains at large.
The suspects said he had "ordered Mr Ampan and Mr Taofix to scout the road ahead of Abdullah Samaair, who drove the new Isuzu pickup to the intended detonation site in front of the telephone company office," Krissada said.
It remains unclear why the bomb plot failed. The police have not disclosed whether they thwarted the men before they could set off the explosives, or if the device simply failed to detonate.
Analysts: Militants aim for large-scale attacks
Although the arrests were a morale booster for police, analysts caution that the risk of deadly attacks remains strong and that insurgent tactics may have taken a new and sinister turn.
"In a departure from the usual small village-based cells of the RKK, the insurgents have been able to assemble platoon-sized units of 15 to 40 men for operations," said Brian McCartan, formerly a Thailand-based reporter and now a researcher with the Contemporary Islam Program at the Institute of Strategic and International Studies (ASEAN-ISIS) think-tank in Singapore.
"These units of better-trained militants, stiffened by more experienced RKK members, are supported by local networks of fighters and sympathisers," he told Khabar.
Over 5,000 people – including Buddhist and Muslim civilians as well as security personnel -- have lost their lives since the Deep South crisis escalated in 2004. Most attacks, however, have occurred in remote areas and with relatively low impact.
On March 31st, however, suspected insurgents carried co-ordinated attacks in Yala Town, Hat Yai and Pattani, killing fifteen people and injuring hundreds. The spree of bombings raised concerns that the militants may be changing their tactics.
According to McCartan, they also signal that the insurgents may have built up well-organised networks.
"It seems highly unlikely that the pattern of attacks over the past year culminating in the recent Hat Yai and Yala bombings could be the result of a fragmented command structure," McCartan wrote in a recent report for ISIS.
"Instead, larger operations appear to be controlled through a separate chain of command to the normal village cells, with each operation requiring weeks of planning and organising as an efficient network of supporters."