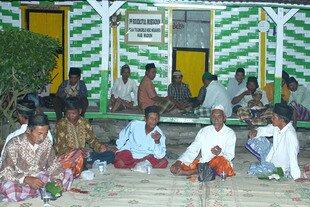 This Indonesian province is famous for Islamic education, and leaders at its many pesantren ( boarding schools) and madrassa are working to root out radicalism in the region and repair the image of Islam.
"Today, many people have the wrong mindset that Islam teaches violence, terrorism and extremism. Terrorism has tarnished the image of Islam in the eyes of the world," Baidhlowi Syah, the leader of Pesantren Ar-Mubtadinin in Madiun, told Khabar Southeast Asia.
His is one of some 4,000 Islamic schools in East Java, both pesantren and madrassas. Students from other provinces as well as overseas travel to East Java to learn about Islam.
The province is also renowned for its mazhabs – different schools of thought within Islam that are embraced by different pesantren. But amid that diversity, there is agreement on the need to combat radicalism through education.
"We have been talking about this for a while. We agree that pesantrens and madrassas must be united to reconfigure our teaching system, regardless of the different schools of thought that we have," said Achmad Zaid, an Islamic cleric and teacher, also at Pesantren Ar-Mubtadinin.
Restoration Era for Islam
At a meeting of local clerics on June 18th, Achmad explained that Islam needs a new revolution – a revolution of peace, a revolution against any radicalism.
"Islam does not condone acts of violence that claim the lives of people who are innocent. Bombings, killings, and other abuses committed by Muslims have been exaggerated by the media as well," he said.
"As a result, Islam is known as the religion of violence. In reality, only a few people do it, and they do so because they have a very shallow, a partial understanding of the true teachings of Islam," he said.
Achmad agreed that, given the number of pesantrens and madrassas in East Java, the province is a good place to start a restoration era for Islam.
"Muslims are people who will use their tongue and hands to help others survive. There are more than 4000 pesantrens in East Java alone that teach various schools of thought. Therefore, we can restore the image of Islam here," Achmad said.
He added: "Another factor that must be addressed is the mistaken meaning of Jihad" as maintaining faith through war.
"Jihad is not to fight physically. Jihad is doing something with passion. For example, a teacher teaches his students because of God, a mother cares for her children because of God, or a father provides for his family because of God. Such behaviour is also part of jihad. Everything is done for the purpose of God – that's the real Jihad," he emphasised.
Vigilance against radicalism
Baidhlowi expressed satisfaction with the 20-year sentence recently handed down to Bali bomber Umar Patek. "I hope the penalty for Patek can provide important lessons for Muslims around the world, especially my students here, to show Islam does not tolerate violence."
At the same time, he acknowledged that East Java has a great deal of work to do to root out radicalism. Two of the architects of the Bali bombing – Amrozi Nurhasyim and Ali Ghufron – were raised and educated in East Java's pesantren.
He believes pesantren and madrassa teachers must increase their awareness of radicalism and report any suspected activity among their students.
Cleric Makruf Mukminin, a teacher at Nasrul Sunnah Pesantren in Madiun, agrees.
"If there are new people around us that appear suspicious, we should immediately report to the authorities. And if we find a speaker or preacher who advocates violence, he must be tackled immediately. Thus, the space for terrorists will become increasingly narrow and hopefully disappear," he told Khabar.
"Right now we have a heavy duty that we must restore the image of Islam. It is not easy, but if we show the attitude of gentle, loving, mutual help and respect with other people, then it is possible for us to rebuild the image of true Islam," he said.
"Islam must be clean. To overcome the problem, we need to close off any possible opportunity for hardliners to make their presence felt in Indonesia. Do not let them control the mosques," echoed Muhammad Cholis, another teacher at Nasrul Sunnah.
Past and future heroes
Islamic education plays a key role in preventing radicalism and fundamentalism, because people rely on Islamic schools to teach their children values, Baidhlowi said.
Aminah, a mother of four, is excited by the idea of pesantrens monitoring student activities and preventing any possible misunderstanding of Islam.
She told Khabar: "I think most parents will agree with this suggestion. Imagine, most of the time our children will spend more time with their teachers than with us. My sons will only come home once a month and most of the time they spend their entire time in pesantren."
Baidhowi noted that Indonesia has made major contributions to Islam, pointing to historic figures such as Wali Songo, who played a key role spreading Islam in Java, and Diponegoro, a Javanese prince who depended on Islamic values and teachings in his opposition to Dutch colonial rule.
"If we see many Indonesian heroes, we realise they are not only a hero for our nation but also heroes for Islam. They are protecting the country and religion."