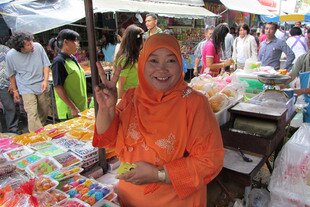 After two weeks of disruption, Friday commerce in Thailand's restive Deep South appears to be returning to normal. Business had been stymied by threats from anti-government insurgents, who say Islam stipulates that Friday must be reserved as a day of prayer according to Islamic doctrine.
Muslim clerics and community leaders have disputed that claim, saying that the requirement for prayer does not mean that all commercial activity must stop.
"For our Muslim brothers and sisters here, there are no restrictions against selling on Friday. They can sell as normal," said Mustafa Yomae, a community leader from the village of Ubai-ete.
To meet their religious requirements, Muslim vendors should "pause for the sound of the Azan [call to prayers] and then take part in the Lamat (prayer ceremony) at those times", he told Khabar Southeast Asia.
Security was tight on Friday (October 19th) at markets in Pattani and around the region, as police wearing bulletproof vests and armed with assault rifles kept watch.
"We are looking after the situation here as thoroughly as possible, by monitoring the area in and around the market, especially in high-risk areas," Pattani Muang District Police Deputy Lieutenant Colonel Mana Dechavarit told Khabar. "Security here is at its most stringent on Fridays; we want to encourage consumers to get out and shop."
Mareeya Mut, 40, a fish vendor in Pattani, told Khabar it was her first day back on the job since news of the insurgent threats swept through the normally busy market area.
Mareeya, a mother of four who is visibly pregnant with her next child, said she cannot afford not to work.
"I need the income to feed my family. I can typically make four or five hundred baht [$13 to $17] per day in profit, but it's still not enough to cover all my family's expenses. I just don't know how we can cut back on spending any more than we already have," she said.
Newly appointed Pattani Governor Pramuk Lamun toured the area Friday, together with other high-ranking officials. Their visit was part of the local government's Sook Sukh Hansa (Fun Friday) campaign to restore consumer confidence.
Among the enticements were 500-baht ($17) allotments of coupons in small denominations issued by Pattani Municipality to its workers to encourage them to make purchases. Vendors could later redeem the collected coupons for cash.
Also getting in on the act was the Pattani office of the Department of Internal Trade. It organised a Blue Flag Fair, offering free retail space to vendors offering consumer goods at below normal market prices.
Similar government-sponsored events encouraging traders to open for business on Fridays also took place in Yala and Narathiwat, with no reports of violence.
Deputy Prime Minister Yutthasak Sasiprapa was quoted saying in the local media that about 60% to 70% of shops opened in the three provinces on Friday.