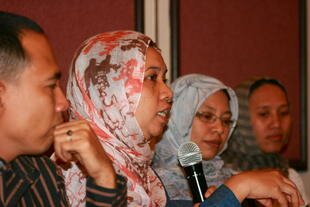 Despite the 2005 peace pact that ended 30 years of bloody conflict in Aceh, life in the province has not improved for women and children since then.
That was the stark message conveyed by a panel of women activists from Indonesia's westernmost province, who were in Jakarta June 4th to present findings on violence against women in Aceh from 2011-2012.
During that time, there were 1,060 cases of violence against women, according to the 231 Monitoring Network, a coalition of women's rights groups based in Aceh.
The name refers to Article 231, on women empowerment and child protection, of Law No. 11 2006, which allowed Aceh to implement Sharia Law under its special autonomy status.
The coalition argues that women have been victimised, not protected, as a result of the imposition of Sharia law in Aceh. They face difficulty accessing justice, stigmatisation, intimidation and violence.
The activists stressed, however, that they are not against Sharia itself. It is the way it is being implemented that is raising questions.
"The implementation of Sharia Law should be able to restore proper justice and improve social welfare to its citizens, which we did not get during the conflict," Samsidar, an activist from the Aceh Women's Legal Aid Foundation (LBH Apik Aceh), told Khabar Southeast Asia.
"On top of that, it should protect women and children in Aceh," she added.
Cruel and humiliating punishments
The National Commission on Violence against Women (Komnas Perempuan), which hosted the gathering, has identified 282 regional regulations (Perda) that discriminate against women in various parts of Indonesia.
In Aceh, Komnas Perempuan has identified 15 such regulations. Violating them can lead to cruel and humiliating punishments such as beatings, canings, being bathed in sewage water, and forced marriages, the group said.
"Many regulations are established to promote religious values and morality. But their implementation tends to violate human rights which are protected by the Indonesian Constitution," Komnas Perempuan Commissioner Andy Yentriyani said.
Aziana Rambe, the secretary general of Women Volunteers for Humanity (RPuK), told reporters that some regulations merely serve to distract local people from more important issues.
A new bylaw forbidding tight outfits for women in Meulaboh, West Aceh, diverts attention from the government's failure to provide housing for 2004 tsunami victims in Meulaboh, she charged.
If the local government were properly implementing Sharia Law, "they would focus on how to improve Islamic public service and social welfare for Aceh citizens," Aziana argued.
She said they would neither focus on the women's outfits nor women's dancing.
Pro-democracy and pro-Islam
In Aceh, those who criticise authorities are quickly labeled anti-Sharia or anti-Islam. The activists, however, say that is not true.
"As Acehnese, why would we speak something bad about Aceh and still want to return to Aceh at the end of the day?" Norma Manalu, an activist from the Women's Shura Hall of Aceh (BSUIA), told the forum.
"We want Aceh to be safe. We want to go home without violence or discrimination anymore. We just want to live peacefully with our families in Aceh," she explained in tears.
"We are not against the government. But if something is wrong, we should tell the government and provide them with some inputs," said Suraiya Khamauzaman, founder of the Flower Aceh Foundation. "It is very important for the government and civil society to work together to meet our goal in eradicating discrimination against women and also improving social welfare."
The women made it clear they embrace both democracy and Islam. "Indonesia is a democratic country, and Aceh is part of Indonesia. Therefore, we believe that there is a democratic space in Aceh as well," Samsidar said.
"Even though there are many risks ahead of us, we want to use our right as Indonesian citizens to make our voices heard. It needs to be understood that Islam is a religion of justice, a religion of love, and cares about other people. Islam is a religion of equality and peace," she added.