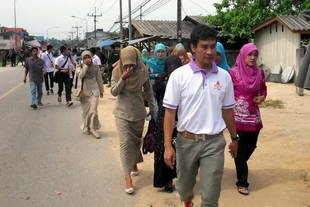 A small community in Narathiwat is in shock and mourning after a Wednesday (July 24th) bomb attack by suspected insurgents killed two Muslim women – both of them teachers at a local school. The attack was one of several this week that have cast a shadow over the Ramadan truce agreed by the Thai government and the Barisan Revolusi Nasional (BRN), one of the main insurgent groups operating in the Deep South.
Nayeeha Yeera, 38, and Noorayaharn Awae, 44, were on their way to work at the Phitak Witthaya Kumung School in Chanae, Narathiwat when a roadside bomb exploded. It sent their car – a white Daihatsu subcompact – careening into a drainage ditch.
The two women died instantly from shrapnel wounds. The driver, 33-year-old math teacher Apichart Benjulamat, was rushed to hospital with grave injuries, also from shrapnel. Three members of a security detail assigned to escort the teachers to school were wounded.
Sommai Jehwae, director of the Phitak Witthaya Kumung School, expressed his shock over the killings. He said pupils and teachers at the school are grief-stricken.
"The two deceased teachers were adored by their students, and all of the teachers and students went off by themselves to cry and weep when they heard the news of the loss of the two teachers. Nobody thought that there could be an attack like this, especially during the holy month of Ramadan. But once again teachers have been targeted and killed," he told Khabar Southeast Asia on Wednesday.
"As both of the slain teachers were Muslim, we also need to move quickly to bury them in accordance with Islamic principles, which state that they need to be buried within 24 hours of passing away. I expect all of the teaching staff and students to attend the funeral rites."
The incident is again raising questions among teachers and school staff about the effectiveness of security measures designed to ensure their safety. On the day they were killed, the car driven by the three teachers had a security escort consisting of three officers in an Isuzu pickup truck, plus four other security staff, riding in pairs on two motorcycles.
"The security measures in place at the time were good," Sommai told Khabar."But given what has happened today I would like to ask the authorities to review their teacher safety plan and make improvements."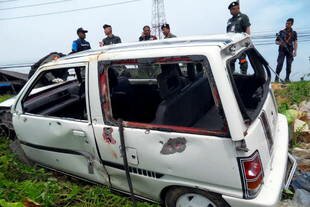 Residents "overcome with grief"
Jehruhanee Baka, a teacher at the school, was friends with all three victims. She says she cannot understand what the insurgents hope to gain by targeting educators.
"I don't know why it has to be this way," she told Khabar. "What is it that they [the insurgents] want? As teachers all we want to do is teach and develop our students to be good people. That's it; we don't have any special powers or conflicts with any other groups or individuals. I and all of my fellow teachers are deeply saddened, but all we can do is ask 'why?'"
Borsuden Jehsama, the 40-year-old parent of one of the students at the school, said the community is reeling from the news. "I knew both of the victims well, and I can attest that they were both very good people, always ready to help out local villagers. I could never have imagined that their lives could end like this. All of the parents are saddened, some speechless and overcome with grief, others as yet unable to process what has happened," he told Khabar.
He added that despite the potential dangers he and his family would attend the memorial ceremony for both teachers.
"We want to pay our respects and always remember their beauty and kindness. As I think about it, carrying out an attack like this during Ramadan is diametrically opposed to the teachings of Islam," he said.