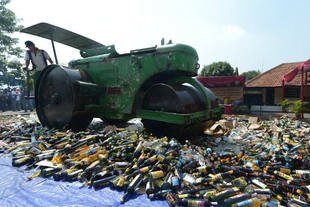 Local governments in Indonesia now have authority to ban alcohol sales after the Supreme Court struck down a 1997 presidential decree that prevented them from doing so.
Twenty-two regencies and municipalities passed such bylaws, but they were voided by the Home Ministry in 2012 because they violated the presidential decree.
In response, hardline groups rioted outside the ministry, and the Islamic Defenders Front (FPI) filed a judicial review challenging the decree.
"With this new Supreme Court ruling, there will be no reason to annul any bylaws prohibiting the circulation and consumption of alcohol," FPI spokesman Munarman told reporters on July 4th, when the ruling was announced.
MUI supports alcohol ban
Islamic groups welcomed the ruling, which could ease perennial tensions over alcohol sales.
"We want alcohol bans to be enforced in any community," Indonesian Ulema Council (MUI) chairman Ma'ruf Amin told Khabar Southeast Asia. "MUI supports the Supreme Court's decision and hopes this will be implemented soon in the territories that requested the ban."
"Of course, this is a good moment for the parliament and the government," said Arwani Thomafi, deputy secretary-general of the moderate Islamist United Development Party (PPP).
"Our religion prohibits drinking beverages containing alcohol. But we need bylaws to protect our community and to implement this religious obligation," he added.
Bans are OK, but raids are not
Some citizens who did not necessarily agree with the ruling said they hoped it would appease the FPI and prevent vice raids during Ramadan targeting establishments that sell alcohol.
"FPI's raids are always scary and unfair for our citizens. They create threats to the peace, especially during Ramadan," said Dyah Adinda, a 23-year-old resident of Bandung, West Java.
Dyah told Khabar she had witnessed several raids conducted by the FPI.
"They brought swords and guns. I am not sure if those are plastic or real weaponry," she said. "I was scared to see them. Also, they usually come using loud motorcycles and cover their faces."
Dyah said in some parts of Indonesia, alcohol is part of the culture.
"I would say I am neutral. I agree for those irresponsible drinkers, banning alcohol will prevent many crimes," she said. "However, in some parts of Indonesian culture, alcohol is embedded in people's daily life. For example, for most people in Ambon, East Nusa Tenggara, and Papua, drinking sobe (palm sap) is very common. It is part of tradition, especially when people are gathering.
"I do think the Supreme Court's decision is good enough to accommodate FPI's concerns, but they should not do any more violent acts."
Muhammad Syam, a 45-year-old Islamic cleric in Tangerang, said the alcohol ban would likely make the region safer. Tangerang, located just west of Jakarta, is one of the regions that had its alcohol ban voided by the Home Ministry.
"I think banning alcohol in Tangerang is good. Most of us do not drink anyway," he said. "The fact is, in a lot of cases, crime happens when people are not sober. I think the ban is not only making us more religious, but also safer."
Jakarta's outskirts have a lot of bars, restaurants, and hotels, which may have to revise their menus in the wake of the ban. But Muhammad said, "I do not think it will affect the number of tourists and foreigners to come and visit Tangerang. We want our region to be safe."
He also hopes to see an end to violent raids by the FPI.
"FPI members are not the authorities, and they do not have any rights to conduct the raids in the name of Islam," he said. "That is incorrect! FPI's acts have been very disturbing – not only for people in West Java, but also in many other places including in Yogyakarta and East Java."