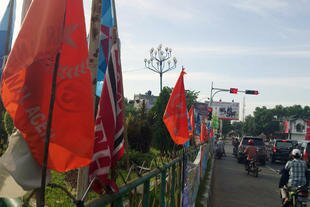 At 3.20am on June 29th, the smell of burning rubber woke Herlina from a deep sleep. She roused her two children and they ran from the house, screaming for help. In the garage adjacent to her house, her Ford Fiesta was on fire. Neighbours quickly helped douse the inferno.
More than a month later, no one has been arrested in connection with the incident. But to Herlina, a 38-year-old midwife, one thing about the arson is clear: it was linked to her candidacy for a seat in the North Aceh district legislature, in 2014 elections.
"Obviously, whoever burned my car is one of my political opponents," she told Khabar Southeast Asia. "That night, they also took away five PNA flags in front of my house."
The Aceh National Party (PNA) is one of three local parties contesting elections in Aceh next year. Twelve national parties are also in the race for legislative seats at the provincial, district and city level.
Residents fear that violence will crescendo as campaign season heats up, in a repeat of the 2012 election when the governor, 13 district heads and four mayors were elected.
That vote was postponed four times amid car burnings, death threats, brawls and finally, a series of nine shooting deaths. Aceh appeared unable to shake its violent past, even as it exercised its democracy and autonomy.
"The shooting order is still in force"
Aceh is the only province of Indonesia allowed to field local political parties, part of the 2005 settlement of the 30-year conflict between the Free Aceh Movement (GAM) and government forces in which some 25,000 people, most of them civilians, were killed.
In 2009, the Aceh Party, founded by former insurgent leaders, won a majority of seats in the provincial parliament as well as many district and city posts.
But in 2012, after losing his bid for a second term as governor, Irwandi Yusuf and other former GAM leaders left the Aceh Party and formed the PNA.
Another new player on the scene is the Aceh Peace Party (PDA), which has yet to gain much traction, according to political observers.
Kindergarten teacher Zuhra, 31, a PNA candidate, says she was threatened by former GAM members who told her "the shooting order is still in force for traitors".
"They tried to force me to withdraw my candidacy because I am representing PNA. I said no way would I back out," she said.
PNA chairman Irwansyah stated many area candidates had been threatened. "The police have to work extra to crack these political criminal cases, until the person who gave the order is caught. Not just the person who carried it out," he said.
Voters "don't need to be threatened"
Kamaruddin Abubakar, a top Aceh Party official, said it rejects violence. "We want to compete fairly," he said.
"When violence occurs, the Aceh Party is always accused. But we ourselves have often become victims of violence," he said, adding that no party leader had ever instructed supporters to carry out acts of violence.
He said it was no problem that former Aceh Party cadres had chosen to form a new political party.
"It's up to the people to choose, because the people of Aceh are smart enough to determine what is best for them," Kamruddin said. "Acehnese have principles in making their choices. They don't need to be threatened and terrorised."
Conflict management needed
Saifuddin Bantasyam, director of the Center for Peace and Conflict Resolution Studies at the Syiah Kuala University (UNSYIAH) in Banda Aceh, sees a potential for election-related violence in Aceh if tight races among former insurgents are not carefully managed.
"We need conflict management to resolve any problems that occur in accordance with the rule of law," he said.
The scale of the election, meanwhile, is vast. About 1,274 candidates are competing for 81 seats in the provincial parliament. Tens of thousands are vying for district and city posts.
For Herlina and Zuhra, candidacy is their ultimate choice. Threats and terror will not persuade them to step down. "If I withdraw, I've lost before the real competition, and the perpetrators would be happy," said Herlina.