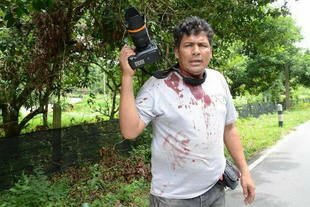 Separatist insurgents waging an armed campaign in the Deep South of Thailand have targeted teachers, grocers, farmers, imams and even small children, in addition to attacks against the Thai security forces.
Now journalists have also found themselves among the victims of the insurgency which it is their job to cover. Five reporters, including a photographer for the AFP news agency, were among 13 people wounded in an October 19th blast set off by the militants.
The explosion followed another one minutes earlier that was aimed at a passing convoy of Thai Army Rangers. As journalists and other witnesses came to the scene, a second device went off.
"We heard an ear-piercing explosion and we all fell to the ground, our cameras all scattered," Khao Sod photojournalist Madaree Tohlala told Khabar Southeast Asia. "We pulled ourselves together and picked up our cameras and wiped the dirt off the lenses so we could record what had happened. I noticed blood and felt pain in my left shoulder. I couldn't lift my arm and the blood kept coming because of a shrapnel wound, but I tried to keep my composure until police came and took us to Ra-ngae Hospital."
"In my view, the criminals are not interested (in peace). They are only interested in violence, so who knows how many more will be injured or murdered when the situation is so deeply entrenched," Madaree added.
Marunee Mama, assistant reporter for Thai Rath and a Muslim, said, "After the explosion everyone said 'we've been hit!' I was hit by shrapnel in the left hip and blood was spurting out of the wound, so I stuffed my shirt into the wound to staunch the bleeding while taking pictures at the same time. After I finished doing my duty I was sent to Ra-ngae Hospital for treatment."
"It hurt a lot and I now feel first-hand what so many other victims of the violence in the three provinces have felt at the hands of these people who use violent tactics to stir unrest, how their brutal methods cause so much pain for their victims and their families," he told Khabar.
In the wake of the bombing, Newspaper Association of Southern Thailand Chairman Chaiyong Baniroongsakul has called for an investigation.
Channel 7 reporter Kiriya Tohtanee said the dangers make him apprehensive about his job but he won't be deterred.
"As reporters, it is our responsibility to cover important news, even if the dangers are potentially life-threatening and we are only paid a few hundred baht per story," he said. "If you ask me if the risk is worth the reward, I would say 'not anymore'. We could be killed, and who would look after us if we are left disabled? But we are reporters and it is our duty."
"If we do not report the news to the public, then who will? How else will they know what is going on in society or in the world?"