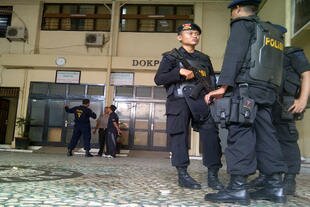 People in eastern Indonesia are calling for increased efforts to prevent terrorism after the arrest of alleged militants there in mid-October.
Authorities arrested two suspected terrorists and killed another who fired on police in Bone, South Sulawesi on October 17th. The following day, Detachment 88 arrested a terrorist suspect in Bima, West Nusa Tenggara, in an apparent follow-up operation, police spokesman Agus Rianto told reporters.
The suspects may be linked to jailed terrorist Abu Omar and to Santoso, a wanted fugitive, according to terrorism expert Noor Huda Ismail.
"It's possible they are part of Abu Omar's network," he told Khabar Southeast Asia over the phone. "In Sulawesi, Abu Omar's network is still considered strong," he added.
Beefing up security
Abu Omar is currently serving ten years in prison for his involvement in smuggling illegal firearms from the Philippines.
His network allegedly planned to bomb the Singapore Embassy in Jakarta in 2011. It has also blamed for attacks on Shia minority groups in Java, on police headquarters in Ambon in 2005 and on Indonesia's former defense minister, Matori Abdul Jalal, in 2003.
Although Omar is behind bars, his organization is still running with Santoso seemingly taking the lead, police suspect.
The group is in known for conducting heists and bank robberies to fund terrorism. Another alleged member, Nurul Haq, is believed to have been involved in the fatal shooting of a Jakarta police officer in August. Nurul is currently still at large.
Police predict there will be more attacks and or robberies in coming months.
"They are trying to collect funds to support Jihad and strengthen their new group in eastern Indonesia," Agus said.
"We will tighten our security including a few areas that are considered prone to terrorist attacks and operations, including in Jakarta, Poso, Bone, Bima, and Jakarta's outskirts," Agus told Khabar over the phone on October 23rd.
The need for vigilance
Concerned community members in Sulawesi are urging the government to notch up its counterterrorism efforts in the region – and parents to be vigilant of their children.
"We should look at prevention as well," said Ibnu Mustafa, an Islamic leader in Poso, Central Sulawesi.
Ibnu said that prevention can be done through religious teachings and strengthening education for children. An important element is to involve parents in monitoring their children, to prevent possible self-radicalisation, he added.
"We are living beyond personal relations now," Ibnu said, referring to the spread of radicalism through information available on the internet. He suggested that while the younger generation should be encouraged to pursue technology, there needs to be an increase in the amount of time spent interacting in person.
"Go to the mosques, churches and ask questions if you need to," he said.
Diyah Gala Ampita, a 22 year-old student at the University of Makassar, said local communities should recruit youth and young men to protect society.
"If they have responsibilities, they will be more aware of the need to keep their own place safe. So they will make it a priority before doing anything else. I think it is good to engage them in any security efforts and religious activities," she said.
Diyah noted that Poso, Bone, and other places in eastern Indonesia have been more prone to terrorist activity in part because of the limited resources and opportunities for younger people.
"Only a very small percentage of our youth and young men receive a good education in this region," she said.