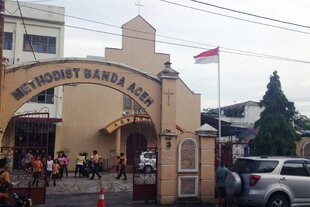 In Aceh Province, Christians are a tiny minority-- just 1.2% of the population, according to 2010 census data.
Only three churches exist in the provincial capital and although Aceh's Christian population is growing, both stringent permit requirements and pressure from the Islamic Defenders Front (FPI) have made it hard for religious minorities to build worship places here, observers say.
In October 2012, the Banda Aceh administration ordered closed nine places of worship belonging to Christians and Buddhists, citing failure to comply with permitting laws. Six closures followed FPI demonstrations demanding the city shut down the venues.
Six months earlier, public pressure from hard-liners led to a similar move by Singkil Regency in southern Aceh, to close 17 Christian worship sites.
Zulfikar Muhammad, who heads the Coalition of Human Rights NGOs in Aceh, says these rules restrict minorities from practicing their faiths.
"If we revisit our constitution, there is no coherence to such restrictions. I see the rule as a form of an authoritarian state against minority citizens," Zulfikar told Khabar Southeast Asia.
"To worship and get together with those of the same faith is an innate basic right that cannot be prevented. The rules state that any limits on a person's ability to worship and pray are violations of human rights," he said, referring to rules implemented in 2006 and 2007 regulating how members of any religion-- including Islam-- can obtain a permit to build a house of worship.
In 2006, the Indonesian Religious Affairs and Home ministers jointly decreed that a permit required a list of 90 congregants, proof of their identities and a letter of support signed by at least 60 local residents.
One year later, Aceh's governor unveiled even more stringent permitting rules at the provincial level, requiring a minimum of 150 congregants and signatures of support from 120 residents.
"With the joint ministerial decree alone, it already was difficult to get the support of 60 residents, and obviously it would be more challenging to get the support of 120 to build houses of worship. It is impossible to fulfil," said Sondang Marbun, who directs the Christian affairs unit at the Ministry of Religious Affairs office in Aceh.
Commenting on the permit rules, Tengku Faisal Ali, the Nahdhatul Ulama (DPW NU) chairman for Aceh, rejected the suggestion intolerance in the province was growing.
"In Islam, respect for minorities is very strongly upheld. Absolutely nothing forbids non-Muslims from carrying out worship according to the requirements of their faith," he told Khabar.
"There is no law against establishing a house of worship in Aceh that meets existing legal requirements. The requirement for the support of local residents is not a form of discrimination, but a requirement that must be met be obeyed by every citizen," Tengku said.