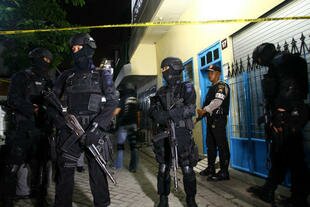 Two suspected Islamic militants planned to bomb various venues in Surabaya on January 21st, but they were arrested in Indonesia's second-largest city a day earlier, authorities said.
Isnaini Ramdhoni and Abdul Majid are alleged members of the Eastern Indonesia Mujahideen (MIT), headed by Santoso, Indonesia's most wanted Islamic militant, officials said.
Santoso is believed to be hiding in the jungles of Central Sulawesi, disseminating propaganda videos about an MIT attack against police.
"The two suspects were involved in a terrorist training camp in Poso, Central Sulawesi, led by Santoso," National Police Spokesman Boy Rafli Amar told a news conference on January 21st.
Densus 88 anti-terror officers arrested Isnaini, who comes from Probolinggo, and Abdul, from Surabaya, at a petrol station January 20th, AFP reported. Police recovered live pipe bombs packed with nails during a search of Abdul's house that night.
The investigation revealed that Isnaini and Abdul previously set their sights on police stations in the Surabaya area.
"They are trying to confuse the police by targeting different objects – police stations, nightclubs, and places of prostitution," East Java Police Chief Inspector General Unggung Cahyono told Khabar Southeast Asia.
Police also were trying to establish whether the two suspects were connected to the recent bombing of a Bank Mandiri ATM in Malang, he said.
Because Abdul's house is a kilometre from the Suramadu Bridge linking Surabaya to Madura Island, East Java police and Madura police worked to secure the span from any terrorist threat, Unggung added.
"We are currently conducting patrols on the Suramadu Bridge by checking every vehicle passing over the bridge," he said.
Many MIT attacks 'considered failures'
Meanwhile, anti-terrorism expert and former Islamic State of Indonesia (NII) member Al Chaidar predicted MIT would try to mount more attacks.
"Their movement continues to exist. However, they are limited in resources, and they lack leadership. Therefore, we will see similar types of attacks in the future: small and amateur," he told Khabar. "Many of their attacks are considered failures."
Usman Bakhrie, an Islamic cleric in Surabaya, urged people to stay calm and "not blame our religion" for the actions of extremists. "Terrorists are excluded from our religion. We are not part of them," Usman told Khabar.