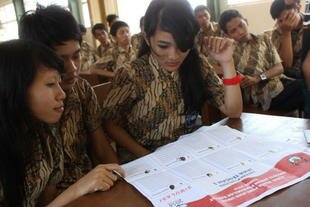 Official results of Wednesday's Indonesia's legislative election won't be known until the second week in May, but one thing is certain: young voters will have played an important part in the result.
This year, the number of Indonesian voters ranging in age from 17-30 years old reached 59.6 million – 29% of the 186.6 million-strong electorate, according to the General Elections Commission (KPU).
"The number is much higher than the previous election. In 2004, it was only 27 million, and in 2009 it was 36 million," said Golkar Party youth leader Ahmad Doli Kurnia Tandjung, urging young people to vote.
"Before voting, you can analyse which program that you think will be good for you and your family; just do your best," he said. "This is part of the democratic processes, and we should be grateful to be part of it."
Based on history, 20-year old Jakarta resident Budi Hartawan said it is a shame if youth do not vote.
"All reform in our country was initiated by Indonesian youth. The youth pledge on October 28th, 1928, was initiated by youth. That day we all agreed to have one motherland, one nation, and one language," he said.
"Reformation to bring down Suharto's authoritarian regimes was also initiated by youth. Now it is the time where we need to act again by giving our vote."
First-time voters
The non-profit Centre for Election and Political Party (CEPP) held voter education programmes on 40 different school campuses.
"We are trying to encourage young voters to use their rights to vote. We believe that the youth are Indonesia's future leaders," CEPP director Chusnul Mariyah told Khabar.
Ahmad said parties such as Gerindra, Democratic Party of Struggle (PDI-P), The Prosperous Justice Party (PKS) and his own Golkar Party now incorporate campaign technology and social media to encourage young and first-time voters.
Youth voices
In the days prior to the April 9th election, young people showed a mix of emotions about exercising their voting rights.
"I will vote; this will be the first time. I am excited. I hope I will make a good choice and pick a trusted candidate," said Dewi Yuniarti, Yogyakarta Gadjah Mada University student.
But 20 year-old East Nusa Tenggara student Carlos Magheland was cynical about politicians.
"I don't trust many of them. I think they are just good at making promises, but once they get elected, they will forget about us: the poor and powerless," he stated.
Dino Ardian, an 18-year old student from Semarang, said the election was a chance to take part in Indonesia's development. "This is a good opportunity to observe, to learn, and to participate in the democratic processes," he told Khabar.