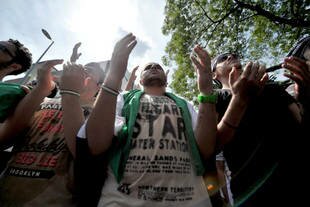 A new terrorist group has emerged from the shadow of Jemaah Islamiyah (JI) and Kumpulan Mujahidin Malaysia (KMM), planning to commit acts of terror on Malaysian soil, officials warn according to local media reports.
Malaysian authorities in recent days arrested 11 people on suspicion of involvement with the unnamed, al-Qaeda-inspired organisation.
Regarding the arrests, Home Minister Zahid Hamidi said some organisations were using humanitarian missions to train militants in other countries.
"We encourage humanitarian missions to other countries, but we will not allow such missions to be used to train members for militant activities," Berita Harian quoted him as saying.
The group sent members posing as humanitarian workers to Syria for training, officials say.
With the arrests that took place in the Kuala Lumpur area and in Kedah state between the last week of April and the first week of May, police accused the 11 suspects of being "responsible for planning terror acts in and outside the country," according to AFP.
Aggressive recruiting
Though Malaysian authorities have the 11 suspects in custody, officials at federal police headquarters said police "were nowhere near neutralising the threat posed by this new terror group", according to a May 1st New Straits Times article.
Numbering about 50, the group came about in late 2013 and has aggressively recruited new members via Facebook, while also infiltrating universities and religious classes, the New Straits Times reported.
The group is "fast gaining traction, luring new members with the Salafi Jihadism ideology, the same one pursued by JI and KMM," the newspaper said, citing sources close to the counter-terrorist operation.
In addition, the new group has dispatched some operatives to Syria, according to the Straits Times.
"Not what Islam wants"
Recruitment of Muslim youths for holy war in Syria is not a new phenomenon, Ikhwanuddin Muhammad, an Islamic cleric in Kuala Lumpur, told Khabar Southeast Asia.
"To be involved and bearing arms in a sectarian conflict like in Syria is not correct," he said. "This is not what our government wants them to do, and this is not what Islam wants them to do.
"For Syria, humanitarian aid is more important," the cleric told Khabar. "We still can do this continuously and do not need to waste our lives in an uncertain sectarian war."
Amin Abdullah Rizaldi, an Islamic Studies student at Kuala Lumpur's University of Malaysia, said that the growth of radicalism had become more pronounced because of social media.
"Now, they [radicals] can get connected closely, virtually," he told Khabar.
"That is not our war," he said of Southeast Asians going to Syria. "Young generations must be careful in interpreting jihad. What happened in Syria is a sectarian conflict, and we should not respond to it with jihad."
Samuel Bahari in Kuala Lumpur contributed to this report.