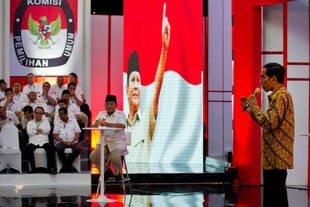 In advance of the July 9th presidential election, the General Elections Commission (KPU) partnered with television networks to host five debates: June 8th (SCTV), June 15th (Metro TV), June 22nd (tvOne), June 29th (RCTI), and July 5th (TVRI).
"The purpose of this debate is to allow each candidate in this presidential race to demonstrate his understanding and position on the issues," KPU Commissioner Sigit Pamungkas told Khabar Southeast Asia. "We hope every Indonesian will use the debates to educate him or herself, and identify candidates that align with their personal interests and needs."
That's exactly what political science student Dyah Pitaloka wanted to see when she tuned in for the first three debates.
"I want to be sure that the future elected president is knowledgeable about various problems that Indonesia is facing right now, including internal, regional and international," the Atma Jaya University student told Khabar.
"The first debate was about internal issues in Indonesia. Both candidates brought their knowledge on ethnicities and religions. The second debate highlighted economic development and tolerance in Indonesia. The third debate focused on foreign policy."
Dyah believes the debates are good and effective tools for civic education.
"I think this is a good approach to reach many Indonesians who are behind on the current political issues," she added.
Jakarta resident Muhammad Suryadi said he still hasn't decided who he will vote for.
"I did not see the first debate. However, based on the second and the third debates, I am still not convinced which one I should choose. My interest is to provide our students with more educational opportunities. I've noticed that education in Indonesia is very expensive, especially at the college level," he told Khabar.
Muhammad said he would tune in to the fourth debate, the campaign's only vice presidential debate, which focused on technology, science and education.
"I think many Indonesians are still undecided," he said.
Indonesian Survey Circle (LSI) researcher Adjie Alfaraby said there was still time left to change minds and opinions.
"Even though right now one candidate is receiving more support, this can change rapidly. I think people are still expecting further explanation (from the candidates) about the direction of the country," he told Khabar.
The final debate falls on the last day of campaigning, ahead of a three-day rest period before voters go to the polls on July 9th.
"Do not forget to use your right to vote. It is important if you are expecting to see the changes and results you want," Adjie said.