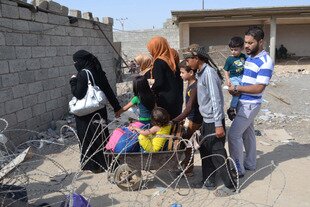 Latifa al-Dulaimi, a resident of Fallujah, Iraq, has not seen her son Hossam since the beginning of June, when Islamic State of Iraq and the Levant (ISIS) fighters took him prisoner.
Her 36-year-old son was standing with friends near the door to his house when he was detained on charges of contempt against ISIS, al-Dulaimi, 57, told Khabar.
"I have not seen him with my own eyes since then," al-Dulaimi said. "They do not let me see him in spite of my begging to see him and to be reassured. They also did not let me bring him winter clothes, despite the fact winter is coming. It is the same for food or medication as he has suffered from a bronchitis allergy since he was a child."
Hossam is in one of five prisons ISIS set up in Fallujah where hundreds of residents, including many elderly people, reportedly suffer from torture and lack of food and medicine, Iraqi officials said.
"ISIS uses five buildings within the city as big prisons for hundreds of civilians, including tribal leaders, intellectuals, human rights activists and ordinary citizens who refused to swear allegiance," said Fallujah's police chief, Colonel Faisal al-Zawbaie.
Inhumane conditions
Al-Zawbie said elderly men are among those detained and subjected to daily torture . Prisoners suffer from a lack of food and psychological oppression.
"ISIS's creation of prisons and the increasing number of detainees within them indicates residents are refusing to respond to the group or to remain silent about its crimes ," al-Zawbaie said.
Reports by local observers suggest that ISIS holds about 1,800 citizens in prisons across the city, housed inside old factories and government buildings, said Hadi Ahmed, chairman of the Human Rights Commission in Anbar Province.
ISIS "intentionally detains people under several pretexts, including their refusal to pledge allegiance, their previous work in the security forces or out of fear they might volunteer in the ranks of police and the army in the future", Ahmed said.
He added ISIS resorts to painful psychological methods to deal with detainees, such as threatening to execute detainees every day at dawn and pretending to take them for execution before bringing them back to their cells at the last minute.
ISIS elements also prevent detainees' families from visiting and prohibit relatives from providing incarcerated loved ones with clothes, food or medicine, he said.
In addition, the extremists do not provide detainees with health care. This has, in turn, caused dermatological and respiratory diseases to spread among prisoners. In some cases, prisoners have died from such illnesses.
Iraqi Interior Minister Mohammed al-Ghabban also says ISIS's detention of Iraqis reflects the breadth of popular rejection of the group, particularly in areas that it controls.
Ministry reports point to a growing number of detainees in Fallujah, Mosul and Tikrit, as well as an increase in the number of volunteers who want to fight against ISIS, he said.
"There are those who volunteer to take up arms and those who fight it by opinion and by words. This means the beginning of the end for ISIS," al-Ghabban said.