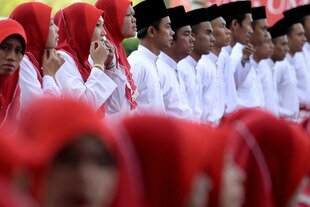 Malaysian Home MinisterAhmad Zahid Hamidi made headlines last week when, on the closing day of the ruling party's annual congress, he screened an ISIS mass execution video that spared no gore.
People in the audience gasped as the video, which ran two minutes and fifteen seconds, showed unmasked Islamic State of Iraq and Syria fighters slitting the throats of bound prisoners, who kneeled in a row before them.
Abidah Ibrahim, a member of the ruling United Malays National Organisation (UMNO), was among the partisans in the crowd Saturday (November 29th) who were shocked by what they saw.
"Once the video was played, many of us were speechless," she told Khabar Southeast Asia two days later.
"The video shows how evil ISIS is. Nobody should be part of this terrorist organisation. These acts are ruining the image of Islam and tolerance. All Muslims should condemn these actions," Abidah added.
Shock therapy
After showing the video, the home minister addressed the UMNO congress in Kuala Lumpur.
It served as a reminder that Malaysians should stay united in fending off this menace, said Zahid, who is also UMNO's vice president.
"We need to fight this extremism together," he told the party's general assembly.
Through showing the ISIS propaganda video , Zahid said, he intended to shock people into realising the gravity of the national security threat posed by the jihadist group.
People needed to "wise up" to it, Zahid said, according to the Malay Mail's account of his speech.
"I want to show them [UMNO delegates] that the threat is real," the newspaper quoted him as saying.
"Look at what they've done. Is this act or this fight permissible in Islam? Look at it and judge for yourselves," Bernama quoted Zahid as saying.
He vowed to lead efforts to pass a bill for a new Malaysian counterterrorism law , which Prime Minister Najib Razak had introduced for debate in the Dewak Rakyat (House of Representatives) on November 26th.
Malaysia's existing terrorism laws were too reactive, Zahid argued. They only dealt with terrorism after the fact of terrorist acts, but the new law would be proactive and designed to prevent them, he said.
Hunting terrorists at home and abroad
Meanwhile, Malaysian authorities continue to go after domestic supporters of ISIS and citizens who have fought for the jihadists in the Middle East.
On November 27th and 28th, Bukit Aman, the special branch of the Royal Malaysian Police's counter-terrorism division, arrested three men suspected of ties to ISIS. Two of those in custody are civil servants suspected of siphoning a portion of their salaries to help fund ISIS. The third man is suspected of having done a combat tour in Syria with the band of marauding jihadists.
To date at least 39 Malaysians have fought alongside ISIS forces, Police Inspector-General Tan Sri Khalid Abu Bakar said.
"Many of them were members of radical organisations, such as Kumpulan Mujahideen Malaysia (KMM)and Jemaah Islamiyah (JI). The new counterterrorism law would be essential to undertake preventative efforts," he told Khabar.
As for Malaysians thinking of returning to the country after serving tours with ISIS, Khalid issued a stern warning.
"We will not welcome them home. We are aware that their arrival will increase radicalism in the country," he said. "Therefore, we will do whatever we can in our capacity and work with everyone, including the community and religious leaders, to rid our society of ISIS's influence."