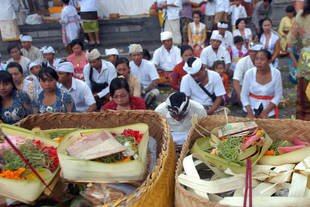 Bali is famous for its unique religious traditions. Although most of its people are Hindus, it is home to residents of diverse faiths.
According to data from the Religious Affairs Ministry in Denpasar, 3.2 million Hindus live side by side in Bali with 348,617 Muslims, 41,799 Christians, 33,233 Catholics, 19,978 Buddhists and 124 Confucians.
Balinese Hindus have already celebrated two major religious events this year: Nyepi and Galungan -- each providing an opportunity for the island's residents to display interfaith tolerance and friendship.
"Thanks to all non-Hindu residents who have given the opportunity to all Hindus on the island to perform Catur Brata Penyepian," said Ida Bagus Wiyana, chairman of Bali's Interfaith Communication Forum (FKUB), referring to the four abstentions of Nyepi, the Hindu day of silence. "It has proven that tolerance and a sense of togetherness exist in Bali."
Symbols of friendship
On March 27th, Balinese Hindus celebrated Galungan, a day that marks the victory of good over evil. On Galungan, people pray in their family temples and at major temples throughout the island. Galungan occurs every 210 days.
For Ketut Suryana, a resident of Denpasar, Galungan has always been a chance to show special attention to those who have different beliefs than him.
"One day before Galungan, our family usually sends cakes, fruit, and tape ketan hitam (a rice dish) to our neighbours and friends. Not only Hindus, but also to Muslims, Christians, and other religions," Suryana told Khabar Southeast Asia. The practice is called ngejot in Balinese.
Suryana said it is not important what kind of food they send. "For me, the important thing from the ngejot tradition is how we can maintain our togetherness and tolerance among different religions," he said.
Protecting a source of pride
On April 11th, a small forum in Denpasar that engages in dialogue to enhance religious tolerance discussed the rise of intolerance in other places, including West Java. The forum was attended by 20 people, most of them Hindu, Muslim, and Christian youth.
"This dialogue is to prevent intolerance in Bali. We hope the incidents in West Java will not occur in Bali," I Gede Suratna, who hosted the forum, told Khabar.
Suratna pointed to the recent incident where the Islamic Defender's Front (Front Pembela Islam/FPI) pressured the closure of three Ahmadiyah mosques in West Java.
"We want to continue embracing tolerance in Bali. We had two religious events since last month: Nyepi and Galungan. Both events were coloured by tolerance," he added.
"We hope a forum like this will continue on a larger scale. The dialogue like this will open more opportunities for everyone to learn from each other and to strengthen relationships among religious followers," said Joko Purnomo, a Muslim who attended the meeting.
The secretary of the Bali Chapter of the Indonesian Ulema Council (MUI), Jamaluddin, expressed gratitude for the unity and tolerance on the island, demonstrated, he said, on every religious holy day.
"Not only during Galungan. The ngejot tradition, for example, has always been performed when Balinese celebrate their special days. Muslims perform the same thing to show their tolerance," Jamaluddin said.
"In my opinion, the tolerance has been proceeding well naturally, without any intervention from interfaith leaders. And we should be very proud of this," Jamaluddin added.