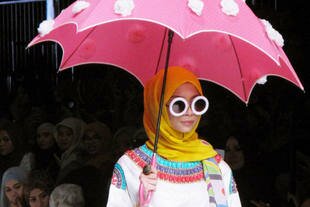 The rapid rise of Indonesia's hijab fashion sector in recent years has made Jakarta Fashion Week (JFW) one of the main reference points worldwide for Muslim wear, and has potential to boost the nation's economic development as well.
So, when industry leaders kicked off Indonesia Fashion Forward (IFF) last year, they selected hijab designer Dian Pelangi to participate in the programme, which grants selected designers one year of special training and mentoring in the business.
This year, JFW has invited two Muslim wear designers, Nur Zahra and Jenahara Nasution, to join the programme, jointly sponsored by Femina Group, the British Council and the London-based Centre for Fashion Enterprise (CFE), in its second year.
"IFF aims to develop the capacity of Indonesia's fashion design talents, with a focus to turn many of its mostly small design labels into sustainable and globally competitive business," said Diaz Parzada, creative director of JFW 2014, which took place October 19th – 25th at the world-class Senayan City shopping mall.
"The strength of Dian Pelangi, Nur Zahra, and Jenahara are their designs' character is not only favored by women who wear hijab, but also by fashionistas who do not wear hijab daily. With this strategy, their works could be absorbed by consumers in western countries and compete with other clothing categories," said Diaz.
Dian Pelangi's bright color combinations appeal to consumers in Europe and Middle East, while Jenahara's minimalist designs in monochromatic tones suit Western European and American tastes, according to specialists at the CFE in London, Diaz said.
Nur Zahra's designs, meanwhile, using organic materials and natural colors, wholly match Southern European and Japanese consumers, he added.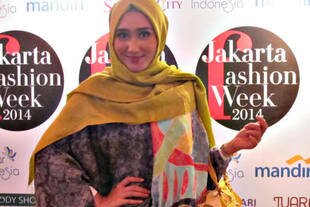 Meet the designers
Jenahara Nasution, 28, introduced her new brand, "Jenahara Black Label," at JFW 2014. She has already promoted her work in other Muslim country, especially the United Arab Emirates.
"Amazing! Indonesia has become a Hijab fashion trendsetter. Our country has a lot of variation of design, color and influence," she told Khabar.
She agrees that hijab design has helped propel Indonesia into the international fashion market. "Hijab fashion may be one way to introduce us to the foreign countries," she said.
At just 22 years old, Dian Pelangi is one of the most influential figures in the hijab fashion industry and modern Muslim lifestyle movement.
"From my overseas customers and international media people, I knew that they praise Indonesia's creativity and variety of hijab fashion. They are amazed how I could mix fashion and faith," Dian shared with Khabar.
"Several people even told me that if South Korea is known for their artist named PSY, Indonesia is known with their hijab fashions. I am so pleased yet surprised to hear this!" she said.
Recently, Dian's costumer base has broadened to include non-Muslim women – proving that selling Muslim wear has not limited her business. "I felt I was being mandated and given credence to promote hijab fashion internationally. Even though I focus to create Muslim wear, I want to make attractive and universal clothes for others," Dian said.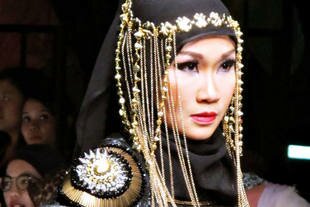 What customers say
Anisa Permitia, a 21-year-old student, was one of the 20,000 people who attended JFW 2014. She is excited by the impact hijab fashion designers are having on Indonesia, socially and economically.
"With their creations, Dian Pelangi and Jenahara are able to invite and inspire young Muslims to wear hijab. The acknowledgement of the Indonesia hijab fashion industry has been demonstrated by Dian, who was invited to attend Paris Fashion Week this year. Hijab fashion's strong influence is increasing the development of the Indonesia fashion industry more broadly," she told Khabar.
Halimah, a 52 year old Muslim leader, shared a more mixed opinion.
"Essentially, using hijab is obligatory for Muslim women. However, hijab fashion scene in Indonesia today is not in accordance with Islamic law. For Muslimah, using hijab is required by Islam to cover the genitals and show no curves."
But she expressed appreciation for the spirit and strong growth of Indonesia hijab fashion today.
"The hijab fashion trend could be an initial inspiration for Muslimah to start using hijab," she said, adding, "I do hope, Muslim women started using hijab not only because of fashion, but because of sincere worship and seek the blessing from God."