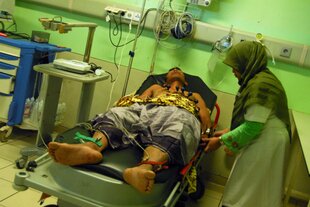 They came for the candidate in early morning darkness. Muslim, a National Democratic Party (NasDem) hopeful for the local House of Representatives (DPRA), was abducted at gunpoint and beaten by unknown men upon returning home in Langsa from a late night party meeting.
"I am still traumatised," the candidate, who managed to escape from his captors and recounting his March 15th ordeal, told Khabar Southeast Asia. "I do not dare to meet my constituents. My wife and my kids forbid me to leave the house at night."
The incident is part of an escalating cycle of political violence in Aceh, ahead of nationwide legislative elections on April 9th.
"During campaigning, violence has increased dramatically. In March alone, there were 29 incidents of violence," Banda Aceh Legal Aid Foundation (LBH) director Mustiqal Syah Putra told Khabar on March 24th.
Muhammad Anwar, a 47-year-old local Acehnese, said "hopefully there will no more bloodshed, no more violence in Aceh. We have had enough of those."
Unfinished transition
LBH reports 66 cases of political violence ranging from shootings to kidnappings, grenade attacks, assaults and other acts occurred between mid-2013 and March 23rd.
The current level of violence in Aceh is higher than the 20 cases during the 2009 legislative election. In 2012, there were 22 incidents of violence, including nine civilian deaths when Aceh elected its governor, 13 regents and four mayors.
On March 31st, motorcycle gunmen fired at a van decorated with pictures of Aceh Party candidates in Bireuen District. Three people riding in the van, including an 18-month-old boy, were shot dead. One party member, Fakhrurazi, was wounded.
According to Mustiqal, pre-electoral violence in Aceh happens because of what he called the "failed" transition into politics of former combatants from the Free Aceh Movement (GAM).
"The institutional transformation of GAM with the establishment of local political parties, was not accompanied by an improvement in their behaviour," he said.
Most of the recent violence involves two rival parties that emerged from GAM: the Aceh Party (PA) and the Aceh National Party (PNA).
Last month, PA members allegedly beat up two PNA members having coffee at a North Aceh district food stall in Cot Murong village. It followed an incident where unidentified people shot a PA supporter on March 21st.
"Although our supporters were beaten and their homes destroyed, we still urge PNA members not to respond because we love peace," North Aceh district PNA secretary Sofyan told Khabar.