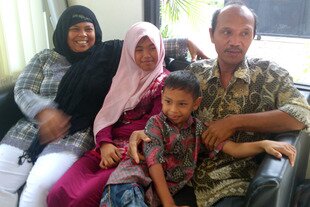 Sarwani has lived a life of struggle and limited means.
But despite a meagre income, the Southwest Aceh Regency resident managed to care for the little girl she came to know as Weniati, whose birth name is Raudhatul Jannah.
"Day by day, I make a living from collecting water spinach, ferns and clams to sell. Then I will buy one or two kilograms of rice a day to feed the girl," she told Khabar Southeast Asia.
When Sarwani first met her, Raudhatul was believed orphaned by the 2004 Indian Ocean tsunami that devastated Aceh Province.
But after ten years of caring for her, Sarwani, 62, gave her up.
From tragedy to reunion
Raudhatul's parents watched the tsunami's rising waters sweep her and her brother Arif Pratama Rangkuti away. The siblings went missing and became separated.
Nearly a decade later, the two children are reunited with their birth parents in Meulaboh, West Aceh Regency. It was the August 6th media coverage of Raudhatul, 14, returning to her father Septi Rangkuti and mother Jamaliah, that helped bring 17-year-old Arif back to the family 12 days later, AFP reported.
During the family's ordeal, kind strangers like Sarwani helped the siblings survive.
Like so many other Acehnese living along the coast, Sarwani lost her home in the tsunami , fled inland and lived with other evacuees for almost a year. She then moved back to a fishing village in her home regency where an NGO built new homes for tsunami victims.
In 2005, Sarwani's son-in-law Bustamil sailed to a fishing village in Aceh Singkil Regency, 40km northwest of Meulaboh , where he met two children who according to locals, were tsunami orphans .
With three sons, Bustamil could not afford to care for both and adopted the girl. They left her brother in the care of a village family.
One year later, Bustamil moved to North Sumatra Province with the boys. They left Raudhatal in Sarwani's care and she spent a happy childhood in the village, playing and harvesting clams.
"She also often cooked rice because I had to go to make a living until late in the afternoon," Sarwani said. "I did any kind of work, as long as (it was) lawful."
One day after school, Raudhatal was recognised by an uncle. He made inquiries about the girl's identity and origins and, contacted her parents.
"I found out that Weni's parents were alive when they came to my house two days before the fasting month ( Ramadan ). They said that Weni was their child," Sarwani said. "I felt sad and happy at the same time. I was sad because I would be separated from Weniati."
Sarwani said she was treated like a member of the family when she returned the girl to her parents.
I am happy, finally reunited with mother and father," Raudhatal said. "I am also happy I now have a younger brother."
A second miracle
Raudhatal's birth parents' hoped their daughter's reappearance would lead to a "second miracle" in the return of Arif. On August 18th, it came true.
"We have not conducted any DNA test yet, but we are certain that he is our son," Jamaliah said. "We see the mark on the nose from the accident when he was a little."
Arif ended up in Payakumbuh, West Sumatra Province where he lived for years as a homeless child, according to AFP. He sometimes slept in a cemetery.
Owners of a local town internet café housed, fed and clothed him. Café co-owner Lana Bestari contacted Septi and Jamaliah after seeing a broadcast photo of a younger Arif.
"I am very happy now because I have been reunited with my parents, and brother and sister," Arif told Khabar. "I was a homeless. My life was very sad as I didn't have a house."