On April 20th, thousands gathered at Balai Kartini, Jakarta to celebrate the 79th anniversary of the Ansor Youth Movement (GP Ansor), the Nahdlatul Ulama (NU) youth group.
"Revitalising Tradition, Strengthening Diversity, and Reducing Poverty" was the theme chosen by Indonesia's largest Muslim organisation for the festive event, attended by approximately 7,000 people.
"We want the event to inspire Indonesian youth to see that after all of the differences – regardless of ethnicity, skin colour, and religion – we are one; we are Indonesians. This event also encourages NU members to work to decrease poverty," said Novan Syukri, a participant.
"Instead of hearing bad news, for example, about the horrible bombing or any terrorism act involving youth, I would rather go to this event. There are many young people at this event. I can feel a positive and good ambiance of peace," he added.

A message of tolerance
Nusron Wachid, chairman of GP Ansor, told Khabar Southeast Asia that the event was special for the NU youth group because, in addition to being the organisation's birthday, it presents an important message of unity and tolerance.
"This is a time where we can revitalise 'one homeland, one nation, and one language.' We want to send an important message to the world that Islam appreciates diversity," he said.
Asked about future improvements to the organisation, Nusron highlighted education.
"We need to educate everyone on how to improve tolerance and appreciation of followers of religions other than Islam," he said. This message of tolerance, he stressed, is not only aimed at Muslims, but at all Indonesians.
"We need to keep in mind that unity is an important pillar of our country. NU will continue to embrace this message throughout all NU pesantrens," he added.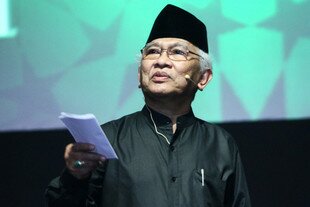 Inspired to do more
Signa Hartanti, a 22-year-old graduate student from Atmajaya University, told Khabar the evenings performances -- singing, dancing, poems – were inspiring.
"Whoever is involved in the performance must be very a diligent person. The audience can get the message from all of the performances. They are really good and delivered the message just right, very touching," she exclaimed.
Signa said the event was not exclusively for Muslims. "I know there are also a number of non-Muslims participating in this event. I think it is a positive element," she said.
"I am sure NU will follow up on its annual theme. For me, the celebration inspired me to continue to maintain a good relationship with religious followers through art, especially dance."
Ahmad Suhendra, 47, attended the celebration with his daughter.
"NU delivered a strong message for everyone to appreciate diversity and encourage everyone to be active in reducing poverty. It helps us, and helps minimise the burden on government programmes," he told Khabar.
Asked about how he personally would work towards that goal, Ahmad said he would focus on youth entrepreneurship, providing more opportunities for young people in his garment business.
"I make baby clothes. I may train more Indonesian youth to be involved and hope that in the future they will have their own skills to continue in the business, or to work for me," he laughed, expressing a sincere desire to help.